Our ground Laurel Bay Leaf is a pure expression of the savory, herbal flavor of the bay leaf. Sourced from the rocky Mediterranean coastline of Turkey, then dried and ground into a powder, it's a versatile alternative to whole bay leaves. Use 1/8 tsp. in place of a whole bay leaf, and there's no need to remove anything from the pot — the powder is edible when ground.

Use in soups, stews, for pan-frying or sautéing, and as a rub for roasted meats and veggies.
Cooking tips
=
Scoop 1/4-1/2 teaspoon into your chili, soup or stew early in the recipe
Add depth with a sprinkling in your pickling jar
Customer Reviews
Write a Review
Ask a Question
Filter Reviews:
flavor
bay leaves
spices
Barrel
Burlap
aroma
taste
soups
kitchen
everything
05/21/2020
Judi S.

United States
Much more than expected
I haven't cooked with the bay leaves yet, but they smell wonderful. I was surprised at how many bay leaves I got for the price. It was a lot!! Now I need to with find some recipes that use Lots of bay leaves or make a wreath for the kitchen. All I usually use them for is spaghetti sauce. Got any good ideas?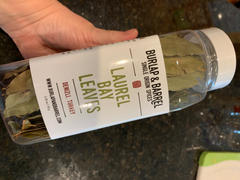 03/14/2023
Kristin R.

United States
Perfect if you hate fishing for bay leaves
Beautiful floral aroma and a joy to not have to fish out a bay leaf!
02/27/2023
Lisa

United States
Great flavor, perfect soup hack
Love this spice - adds great flavor to everything, esp soups - easiest way to add the depth of bay leaves!
02/11/2023
Gil M.

United States
Where has this been all my (cooking) life?
All the flavor (actually, more) with no danger of forgetting to remove the "dangerous" leaf blade.